New Zealand Vs Afghanistan World Cup 2023 Match Highlights, Scorecard, Batting & Bowling Performance Figures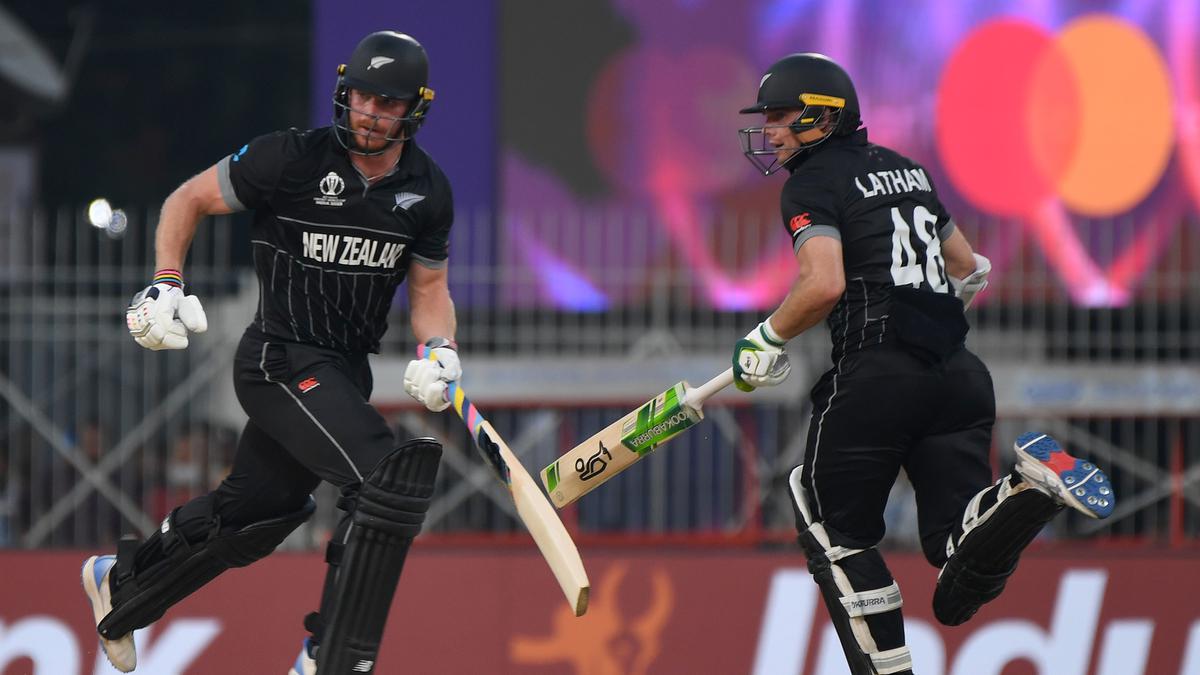 It's an Easy Peasy Win for New Zealand!!
New Zealand has done it again and won a great match against Afghanistan. They're doing really well and their journey in the 2023 ICC World Cup continues to shine bright. This match was a true spectacle, high with excitement, and it shows New Zealand's Strong will & determination to stay on the path of victory.
 New Zealand Vs Afghanistan 2023 World Cup Match Highlights:
In the first innings, New Zealand's batting performance was nothing short of impressive batting performances by the team, they did a fantastic job. Their captain, Tom Latham, delivered an outstanding innings, with a brilliant 68 runs. Will Young and Glenn Phillips also made their significant contributions, scoring 54 and 71 runs, respectively. Their combined efforts set the stage for a Good Defendable total.
But the star of the day for New Zealand was Lockie Ferguson, who showed his lightning-fast bowling to dismantle the Afghan team. He picked up three crucial wickets, shifting the momentum firmly in favor of the New Zealand team. Mitchell Santner also stood out with an all-around performance, adding three wickets to his list.
On the other side, Afghanistan's batting failed as things didn't go well with a dramatic collapse. They trying to chase down a challenging target of 289 runs, but they struggled to build good partnerships and maintain consistency due to the continuous loss of wickets that proved to be their fall.
Rahmat Shah, an Afghanistan player did his best & scored 36 runs was commendable, but didn't get the support from the other side of the wicket losing wickets and guiding them to victory. This absence of substantial contributions costs them loose of match.
 The Afghanistan team felt under pressure and they couldn't handle it. They faltered when it mattered most, unable to convert their promising moments into a winning. New Zealand's bowlers made it really hard for them, exposing vulnerabilities in Afghanistan's batting lineup.
Despite all the effort from Afghanistan's bowlers, including Rashid Khan and Mujeeb Ur Rahman, they weren't able to restrict New Zealand from scoring a tough target. They managed to post a challenging total. Even Afghanistan's bowlers gave it their all.
In the end, New Zealand's bowlers, Trent Boult and Matt Henry, kept their cool did a great job, and helped seal the victory. Afghanistan was bowled out for 139, falling 148 runs short from the target.
This match was a show of New Zealand's consistency and teamwork, solidifying their position as strong contenders in the ICC World Cup 2023. It's yet another step in their journey, and the Kiwis are filled with determination as they look ahead to making a lasting impact in the tournament.
New Zealand Innings: 288-6 (50 overs)
| | | | | | |
| --- | --- | --- | --- | --- | --- |
| Batsman | Runs | Balls | 4s | 6s | Strike Rate |
| Conway (lbw b Mujeeb) | 20 | 18 | 3 | 0 | 111.11 |
| Will Young (c Ikram Alikhil) | 54 | 64 | 4 | 3 | 84.38 |
| Rachin Ravindra (b Azmatullah) | 32 | 41 | 2 | 1 | 78.05 |
| Daryl Mitchell (c Ibrahim Zadran) | 1 | 7 | 0 | 0 | 14.29 |
| Latham (wk) | 68 | 74 | 3 | 2 | 91.89 |
| Glenn Phillips | 71 | 80 | 4 | 4 | 88.75 |
| Chapman (not out) | 25 | 12 | 2 | 1 | 208.33 |
| Santner (not out) | 7 | 5 | 1 | 0 | 140.00 |
Extras: 10 (b 0, lb 4, w 5, nb 1)
Powerplay Overs: 0.1-10 (43 runs)
Fall of Wickets:
30-1 (Conway, 6.3)
109-2 (Rachin Ravindra, 20.2)
110-3 (Will Young, 20.6)
110-4 (Daryl Mitchell, 21.4)
254-5 (Glenn Phillips, 47.1)
255-6 (Latham, 47.3)
Bowling Figures:
| | | | | | |
| --- | --- | --- | --- | --- | --- |
| Bowler | Overs | Runs | Wickets | Maidens | Economy |
| Mujeeb | 10 | 57 | 1 | 0 | 5.70 |
| Fazalhaq Farooqi | 7 | 39 | 0 | 1 | 5.57 |
| Naveen-ul-Haq | 8 | 48 | 2 | 0 | 6.00 |
| Nabi | 8 | 41 | 1 | 1 | 5.10 |
| Rashid Khan | 10 | 43 | 1 | 0 | 4.30 |
| Azmatullah | 7 | 56 | 2 | 0 | 8.00 |
Afghanistan Innings: 139-10 (34.4 overs)
| | | | | | |
| --- | --- | --- | --- | --- | --- |
| Batsman | Runs | Balls | 4s | 6s | Strike Rate |
| Rahmanullah Gurbaz (b Matt Henry) | 11 | 21 | 0 | 0 | 52.38 |
| Ibrahim Zadran (b Santner b Boult) | 14 | 15 | 2 | 0 | 93.33 |
| Rahmat Shah (c and b Rachin Ravindra) | 36 | 62 | 0 | 0 | 58.06 |
| Hashmatullah Shahidi (c Santner b Lockie Ferguson) | 8 | 29 | 1 | 0 | 27.59 |
| Azmatullah Omarzai (c Latham b Boult) | 27 | 32 | 3 | 1 | 84.38 |
| Ikram Alikhil (wk) (not out) | 19 | 21 | 3 | 0 | 90.48 |
| Mohammad Nabi (b Santner) | 7 | 9 | 0 | 0 | 77.78 |
| Rashid Khan (Daryl Mitchell b Lockie Ferguson) | 8 | 13 | 0 | 1 | 61.54 |
| Mujeeb Ur Rahman (c Will Young b Lockie Ferguson) | 4 | 3 | 1 | 0 | 133.33 |
| Naveen-ul-Haq (c Chapman b Santner) | 0 | 1 | 0 | 0 | 0.00 |
| Fazalhaq Farooqi (c Daryl Mitchell b Santner) | 0 | 2 | 0 | 0 | 0.00 |
Extras: 5 (w 5 nb 0 lb 0)
Powerplay Overs: 0.1-10 (28 runs)
Fall of Wickets:
27-1 (Rahmanullah Gurbaz, 5.5)
27-2 (Ibrahim Zadran, 6.1)
43-3 (Hashmatullah Shahidi, 13.6)
97-4 (Azmatullah Omarzai, 25.4)
107-5 (Rahmat Shah, 28.1)
125-6 (Mohammad Nabi, 30.4)
134-7 (Rashid Khan, 33.3)
138-8 (Mujeeb Ur Rahman, 33.6)
139-9 (Naveen-ul-Haq, 34.2)
139-10 (Fazalhaq Farooqi, 34.4)
Bowling Figures:
| | | | | | |
| --- | --- | --- | --- | --- | --- |
| Bowler | Overs | Runs | Wickets | Maidens | Economy |
| Trent Boult | 7.1 | 18 | 2 | 0 | 2.52 |
| Matt Henry | 5.2 | 16 | 1 | 0 | 3.00 |
| Mitchell Santner | 7.4 | 39 | 3 | 0 | 5.09 |
| Lockie Ferguson | 7.1 | 39 | 3 | 0 | 5.45 |
| Glenn Phillips | 3 | 13 | 0 | 0 | 4.33 |
| Rachin Ravindra | 5 | 34 | 1 | 0 | 6.80 |